THE WEST COAST
OF MAURITIUS
From the mythical bay of Tamarin to the shores of Le Morne mountain, classified as a UNESCO World Heritage Site, the West Coast brings together some of the island's most beautiful landscapes. Its breathtaking sunsets draw families, groups of friends and tourists who, each day, come to gaze at the beauty of orange hues lighting up the sky. In the daytime, afar, Le Morne's azure lagoon and Chamarel's verdant mountains offer a whole other postcard-like spectacle!
The West Coast is revered as the ideal playground for fitness enthusiasts and nature lovers. The sea offers a plethora of possibilities, from big game fishing and diving, to swimming with dolphins, waterskiing, kitesurfing and even windsurfing! Tamarin is celebrated as a historic surfing spot—imbuing a distinguished peaceful and relaxing lifestyle into the village's DNA.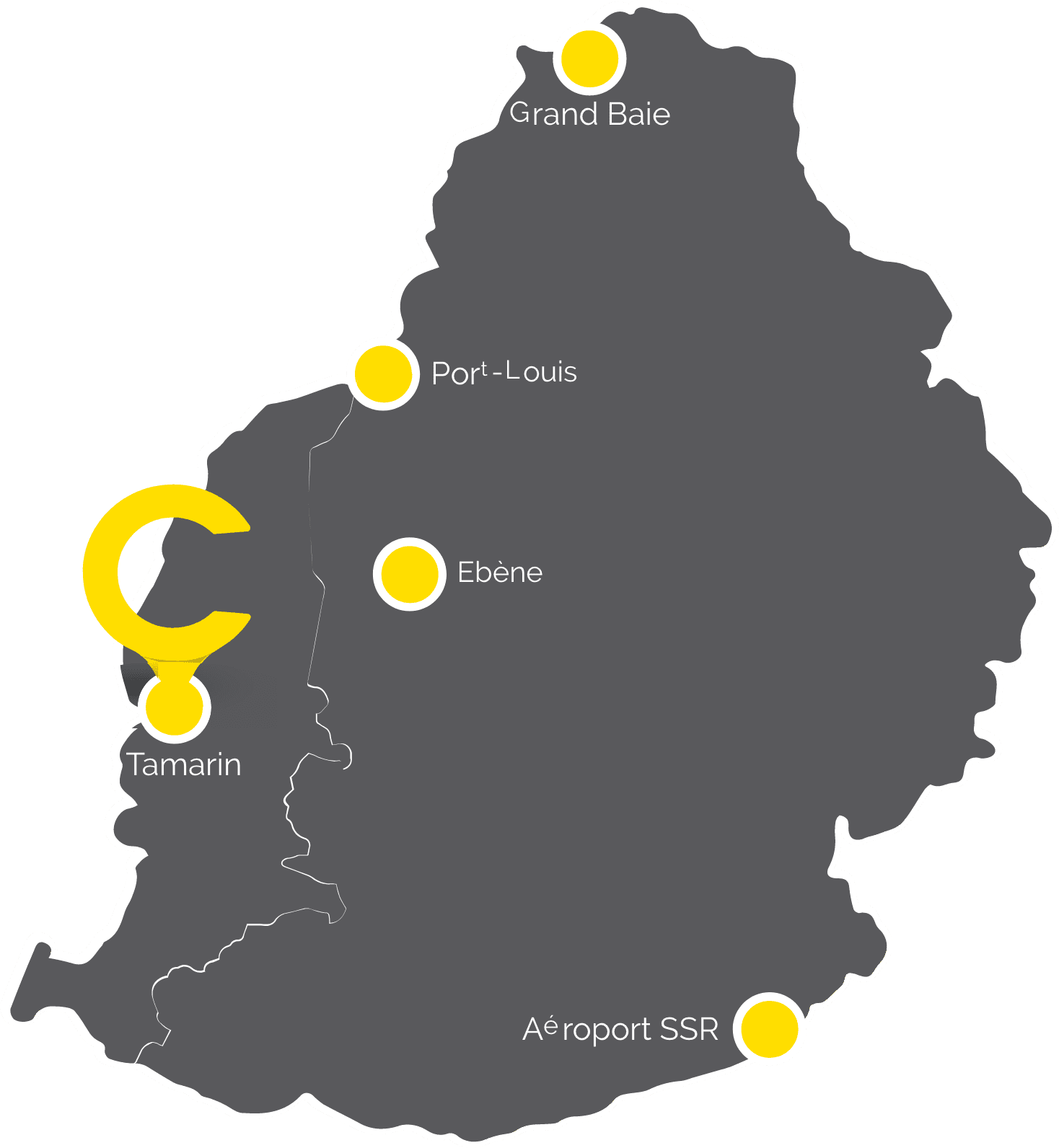 Port-Louis : 25 km
Ébène : 20 km
Grand-Baie : 50 km
Rivière Noire : 4 km
Airport : 50 km
On shore, the region's scenery is captivating: with trails and hiking routes suitable for both seasoned athletes and families on a leisurely walk, it is an ideal gathering place surrounded with all of the quintessential Mauritian flora and fauna. For some, going green is synonymous with a great game of golf… and as luck would have it ! The West Coast brings together some of the island's most beautiful golf courses: enough to stir up a world of sensations.
But the region's allure goes beyond the beauty of its landscapes. Its proximity to the heart of the island, its shops of all kinds and its educational hub are all assets that make of the West Coast a place that is as practical as it is pleasant to live in. The zone offers a range of higher education options, which will soon be enhanced by Cap Tamarin's adapted and undergraduate programmes, be it for primary or college.
Moreover, the range of shops within easy reach, from Cascavelle Shopping Mall to Ruisseau Créole, is a delight for Mauritians and expats who have taken up residence there: with designer boutiques, big brands, specialised boutiques, convenience stores, food courts and restaurants, the West Coast offers scores of options for living life at your own pace, and at your own pleasure!
To live in Mauritius, all foreigners may submit an application for a residence permit at the Economic Development Board (EDB). This government institution grants visas and permits to foreigners and ensures the economic growth of the island.
It is not to be confused with the Occupation Permit (OP), which allows all expatriates to work in Mauritius under certain conditions. A permanent residence, on the other hand, allows the applicant to reside and travel in and around Mauritius.
Foreigners eligible to obtain such a permit include non-resident Mauritians who purchase a real estate property valued at more than $375,000, investors holding a valid OP, investors who inject a minimum capital of $50,000 in an activity, self-employed individuals and foreign retirees. This permit is issued for a renewable period of 10 years, except when it concerns a real estate investment, in which case it is valid as long as the holder remains the owner of the purchased property.
The criteria and procedures for obtaining a residence permit are all listed on the Economic Development Board's website.
Mauritius is enticing… and it's easy to see why!
With a dynamic economy, thriving business sectors, a bilingual and qualified workforce and a regulatory environment conducive to business, the country is positioned as the region's business hub. Set at the crossroads of Europe, Africa and Asia, with a favourable time zone to conduct business with its trade partners, Mauritius is well equipped to become a leading business destination. The island also enjoys political and social stability, as well as solid institutions based on the British democratic model, which contribute to the wellbeing and development of the country.
The country is renowned for its attractive tax regime. Among its major strengths are a personal income tax rate of 15%, no wealth tax, non-taxable dividends and the free repatriation of profits, dividend and capital. Considering that it has signed non-double taxation agreements with more than 30 countries, it's easy to see why an increasing number of investors are choosing Mauritius as their primary residence.
At the same time, Mauritius offers a one-of-a-kind lifestyle that seduces expatriates from all over the world, from couples or individuals in quest of new experiences to families seeking a serene life immersed in nature. Besides, children can benefit from an education system based on international models; quality healthcare services available across the island; and endless entertainment options—from restaurants and sports, to outdoor events, days at the beach or on a boat and cultural activities—appeal to just about everyone. With its lagoons, abundant nature and European-style quality of life, it wouldn't take much to get used to the Mauritian rhythm of life !
It is precisely this fulfilling and dynamic living environment that has prompted expatriates to increasingly apply for residence permits, as they seek to make the most of all the pleasures and opportunities Mauritius has to offer.
Mauritius is a highly coveted destination, particularly by pre-retirees and seniors seeking to put down their roots and retire in the Indian Ocean sun. Mauritius is the promise of a pleasant life in a peaceful tropical setting, activities of all kinds, from golfing to catamaran excursions, and the beauty of its landscapes. It also offers a favourable fiscal environment and a residence permit designed especially for retirees by the government.
Indeed, to remain in Mauritius beyond the period of time reflected on the tourist visa (three months, only renewable once), retirees who wish to live in Mauritius can opt for one of two options. They can either buy a real estate property valued at more than $375,000 which grants permanent resident status on request. Alternatively, the other option is to file an application for a residence as a retired non-citizen permit with the Economic Development Board (EDB, the government institution responsible for granting visas to foreigners). This special permit allows its holder to live in Mauritius for a period of ten years and can be renewed into a permanent residence permit valid for 20 years—a permit that is also valid for the retiree's spouse. To be eligible, the applicant must be aged 50 or above at the time of submitting the application and must undertake to transfer a minimum of $18,000 annually (or its equivalent in any other currency) to a local bank account.
With year-round sunshine, a stable political climate, a booming economy and a minor time difference with Europe and South Africa, it's easy to see why Mauritius attracts so many retired expatriates who yearn to set a new rhythm of life and enjoy the best life has to offer.